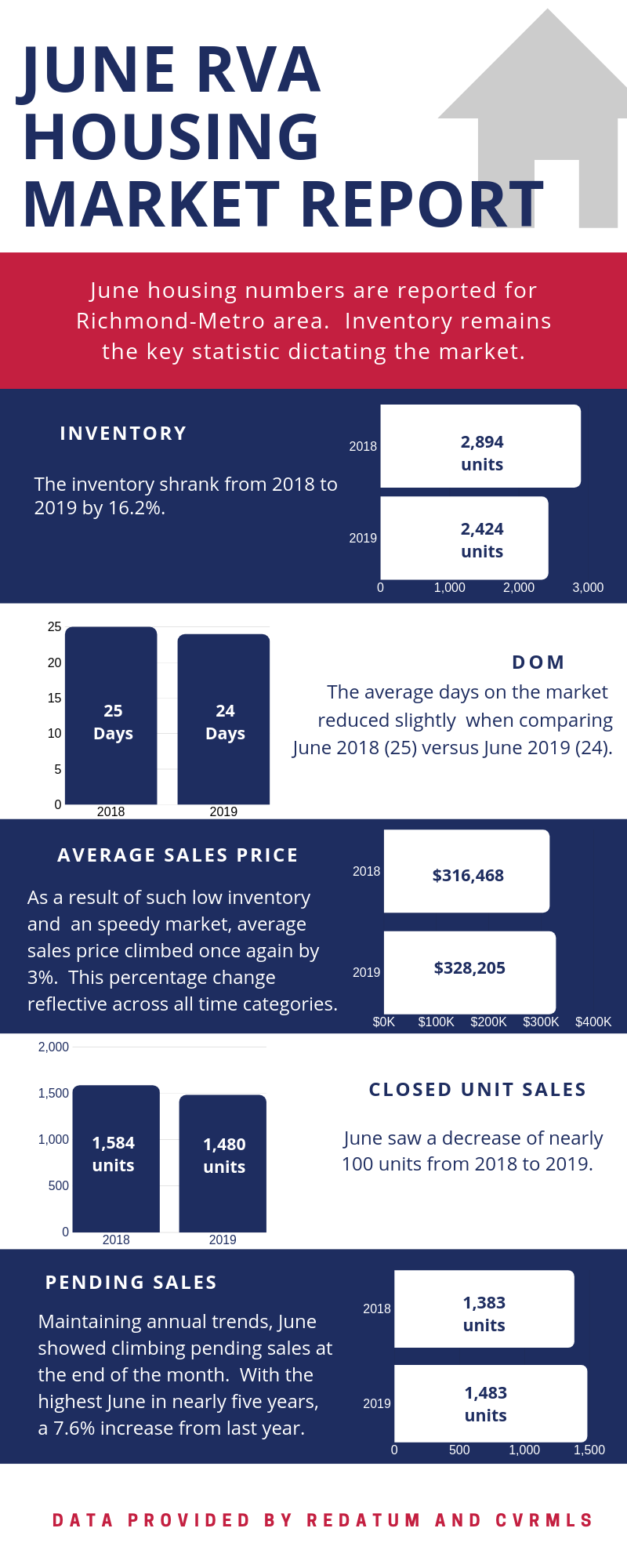 The June housing numbers have been reported for the Richmond-Metro area. The numbers continue to reflect the one major challenge of the housing market: inventory. The inventory in RVA continues to remain small and has shrunk compared to last year. At the end of June 2018, there were 2,894 homes on the market in Richmond-Metro area, compared to June 2019 end of month inventory at 2,424. That reflects a 16.2% reduction.
What makes this number even more challenging is the average days on the market, how long a property is listed as active or available for purchase, decline in June from 25 to 24 days. The year to date days on the market average climbed slightly, 33 to 34, but even with that, homes are not remaining on the market very long.
As a result of the low inventory and fast sales, the average sales price climbed once again. June 2018 saw an average sales price of $316,468, June 2019 was $328,205. This was an increase of 3.5%. This 3% climb is seen in the monthly comparison from 2018 to 2019, the year to date comparison, and the 12-month comparison. While these sales prices increased the closed volume sales by 2.8%, the closed unit sales dropped, again. June saw nearly 100 less units closed in 2019 compared to 2018.
It is not all gloom and doom. As one could expect, being in the hot season for housing, pending sales for June are good. From 2018 to 2019, a 7.6% increase occurred with 1,483 pending sales for June. While the month to month trend mirrors the last five years, the pending sales number just referenced is the highest it has been in the last five years.
Using this data and the results of the National Association of Realtors' Housing Opportunities and Market Experience survey released last week, there continues to be an interesting perspective. The HOME survey indicated that consumers are very optimistic that now is a good time to sell as there seems to be a moderation occurring, from their perspective, with home prices. If this is the trend that occurs, then inventory increased could break the trends from the last several years. This would break the stronghold of a sellers' market and shift some leverage back to the buyers.