As promised per my IG story (@hezbutler_realtor) I wanted to share a condensed version of CVRMLS' Quarter 1 Analysis of the Central Virginia Area Housing Market.  You can certainly check out the whole report here, but it is several pages longer than my version below.
Let's start with national and Virginia economy and how it fared in 2019's Q1.  After a rough end of the year, the stock market has nearly recovered. The growth has been slow and steady, but there has been growth.  The key is to not overreact in either direction, in an effort support this health.
Key indicators demonstrating a healthy economy: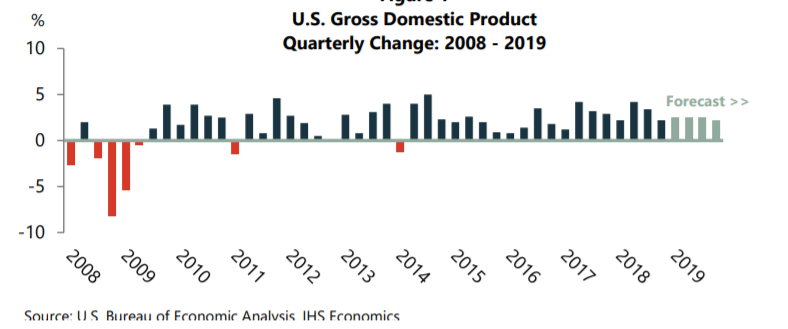 US GDP is forecasts remain in the 2-2.5 range through the year.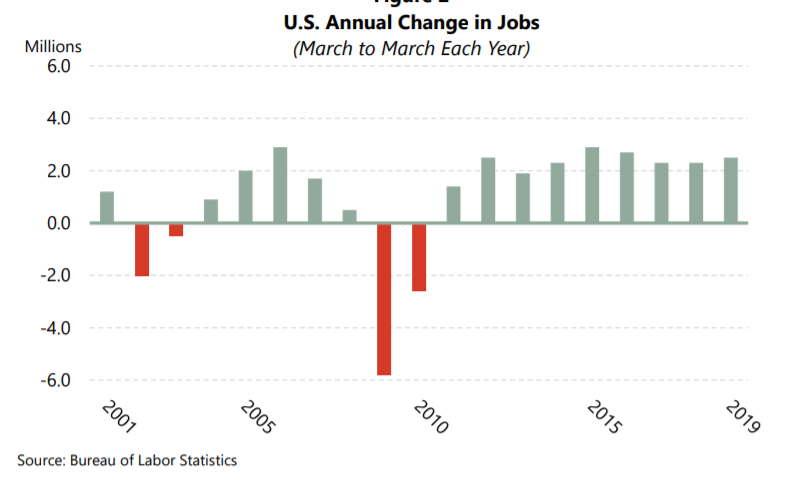 Jobs still look good.  2.5-2.7 million new jobs per year has been the range for nearly a decade.

Unemployment metrics are still low, and are some of the lowest levels since mid-20the century.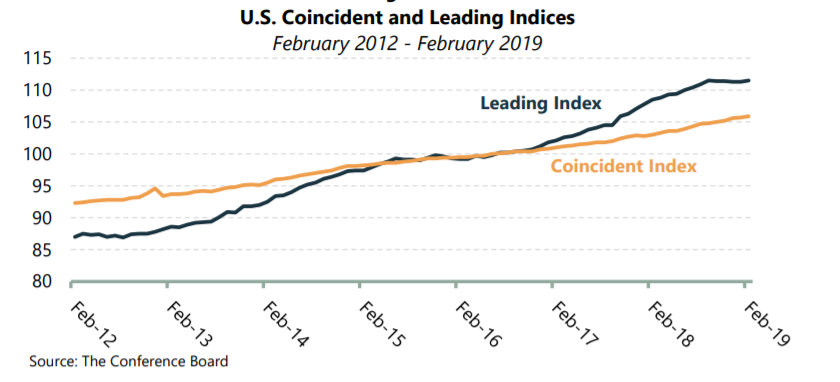 A metric that may not be as familiar to most is the Leading and Coincident Economic Indices.  The short version of what these measure are the direction the economy is going as well as it current state.

The Coincident Index changes when the economy changes, and the Leading Index shows where it is going.

Both of these continue to show moderate growth now and moving forward, at least in the short term.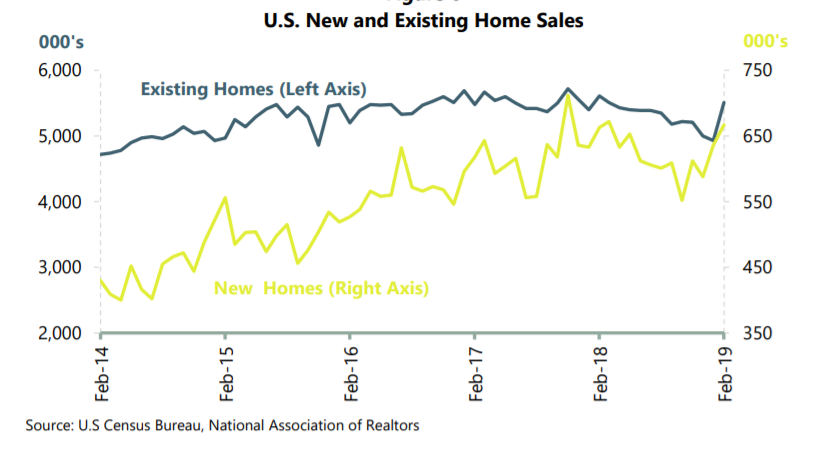 National home sales have been up

So have prices, but at a snail's pace.

Rates remain low, a tick above 4% on average.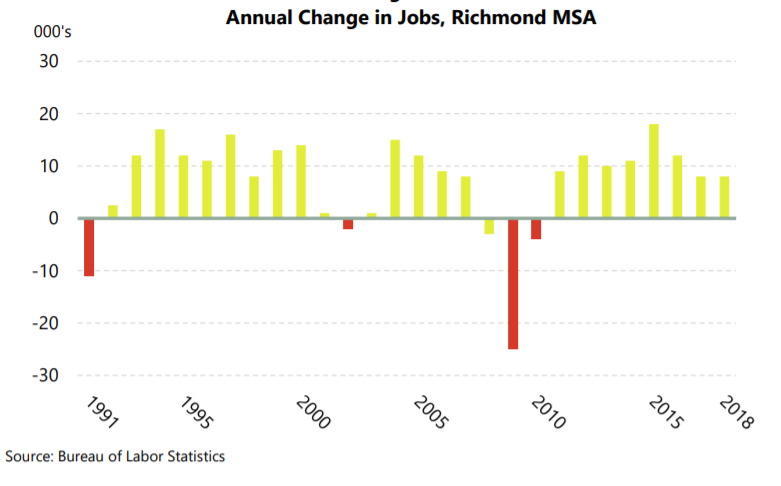 Central Virginia reflects much of the national economy over Q1.

The average 11,000 additional jobs added occurred again, and this growth was seen in almost all sectors.
Okay, let's talk about what we are all here for, the housing market.
Buyers are likely going to stay engaged, as the economy remains strong.

DESPITE a little slow down in the market.

Region saw a little over 60 fewer sales in Q1, (-1%).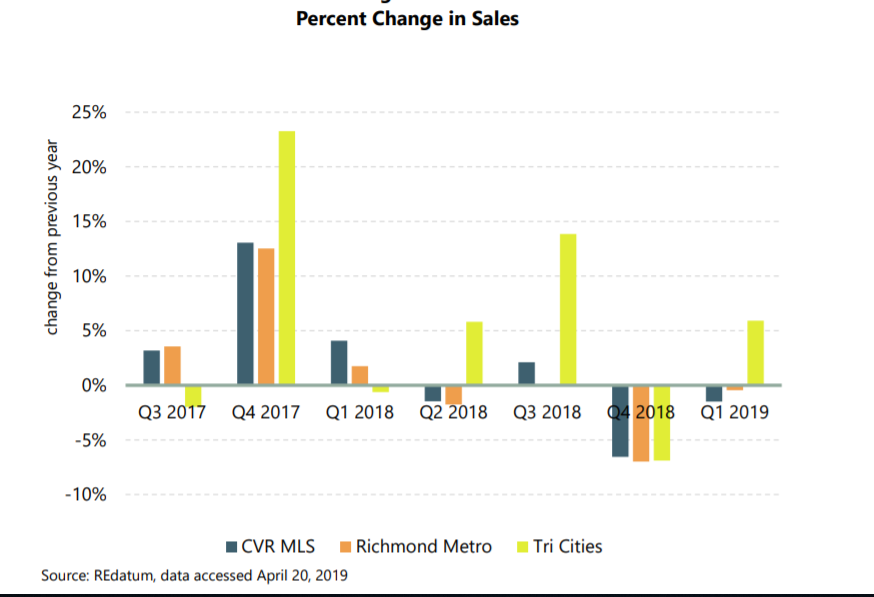 RVA reflected this decline, BUT

The City of Richmond (+9%) and Chesterfield County (+1%) bucked the trend.

Henrico County dropped 4%.

The Tri-Cities had a 6% climb in home sales;

Colonial Heights up 37%!

Petersburg down 22%.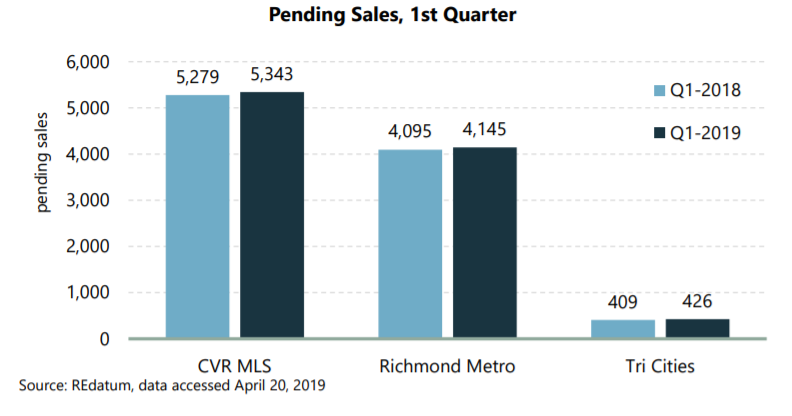 Pending sales were very similar.

All jurisdictions in RVA, EXCEPT Chesterfield, had better numbers than 2018 Q1.

Tri-Cities rose 4%

Hopewell leading the way at 38%

Prince George County at the back of the line with -20%.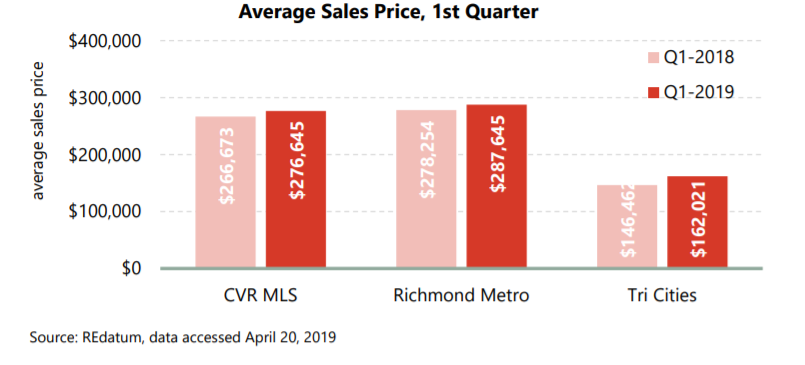 Average sales price in RVA up to $287,645 (+3%).

These prices climbed despite the decline in sales.

The City of Richmond +9%.

The Tri-Cities up to $162,021 average sale (+11%).

Hopewell led the way at +26%.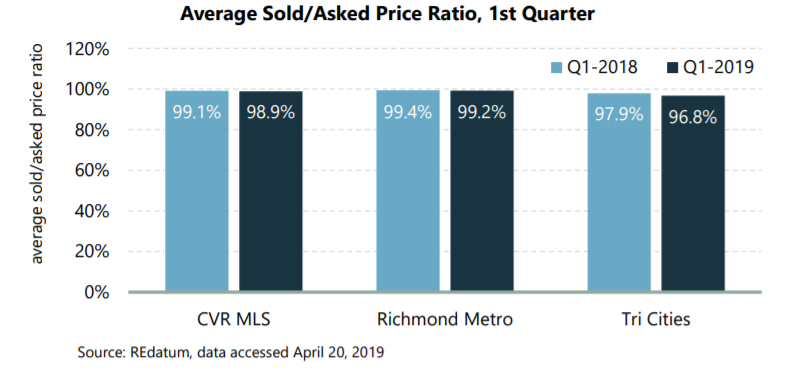 SLIGHT drop in sold to ask price numbers at -0.1%, or 98.9%.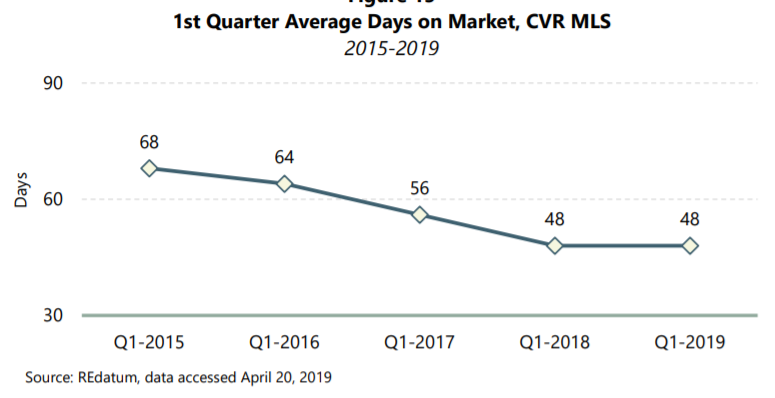 Days on the Market (DOM) unchanged from last year at 48 days.

Stopped a trend of decline.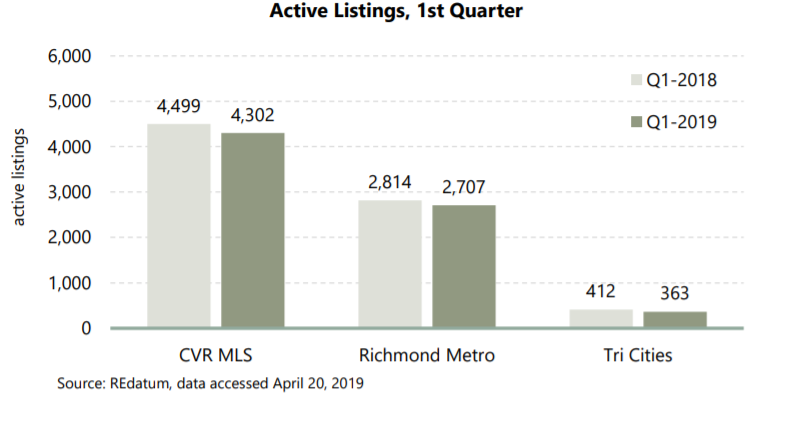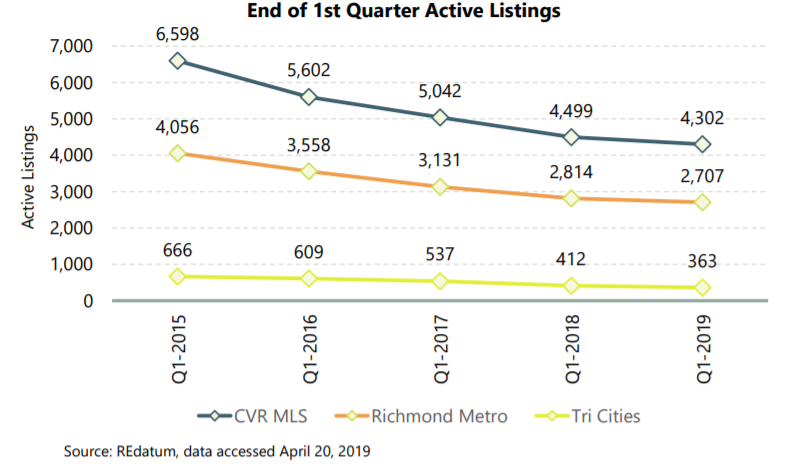 Inventory still incredibly low.

4,302 active listings in Q1 (-4%)

City of Richmond only climber, +18%.

Tri-Cities -12%.
Lots and lots of numbers and data here and cool charts to boot!  But what does it mean for home buying and home selling?
With rates low and it not looking like there will be any increase in the near future, buyers still have a great opportunity to buy.  With that said, the market certainly favors sellers inventory remains low and prices continue to climb. Couple this, with an economy that continues to show moderate growth and indicates strength, this could be a really good time for you to buy or sell in the Central VA market.
What about certain areas within the region?
Well it would certainly appear that the City of Richmond continues to reflect the great time to live in RVA.  Revitalization in many neighborhoods continues as see by all the positive numbers. Folks are staying OR MOVING BACK to the city as the culture of RVA continues to thrive.
In the Tri-Cities, you might be seeing some parallels in the City of Hopewell as they are making major efforts to revitalize much of the city as seen through retail and dining development.  An interesting note to keep an eye on with Hopewell is their move to year-round school, and how that will impact that jurisdiction.
With this said, the right time to buy or sell, is also very personalized based on your circumstances.  Having this information and a Realtor in your corner during that time, is very valuable and you should not hesitate to reach out to someone when you are interested.
Reference:
All notes and images were compiled from CVRMLS and Virginia Realtors' Virginia Home Sales Report, April 2019.