Right in RVA's back yard is one of VA's best state parks.
Pocahontas Park offers a variety of outdoor recreation over its nearly 8,000 acres land.  It really covers everything from day activities to weekend camping opportunities. Pocahontas Park is located in Chesterfield County and easily accessible from nearly anywhere across the state.
The park boasts over 64 miles of trails for hiking and biking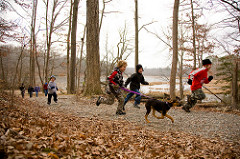 for all skill levels. For bike enthusiasts, you can even download an app to fully view the trails.  You even bring your four legged hoofed friends to Pocahontas as well to trek across over 13 miles of horse trails.
If you want to get your cardio in the pool, the Aquatic Recreation Center is a great way to cool down.  The pool is free to those who camp on the site, but there are some small fees for day usage.  The water park setup is a blast for the kids, I know ours love it!
Speaking of the water, the park has major water zones for fishing and boating.  Swift Creek and Beaver lake offer great opportunities to cast a line or kayak out in open water.  A fishing license is required, but can be purchased at the parks main office. You can also rent paddle-boats,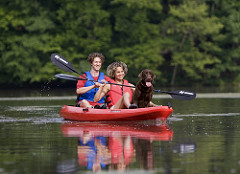 paddle-boards, kayaks and canoes if you don't have you own.
While camping isn't for everyone, there are certainly several options for those that are into it.  The traditional tent and sleeping bag is one way to go at the campsites that have electric and water available.  Pocahontas Park also offers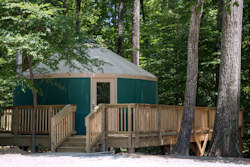 rentals of cabins and yurts. Yurts are a tent/cabin combo. These sleep 3-4, and like a tent you can't cook in it.   If the sleeping in the outdoors is not really what you want to do, because you like your own bed and shower at night (that's me), you can simply rent picnic shelters for the end of a long park day if you want to cookout or gather as group.
One last cool thing about the park is the list of nature and history programs offered.  While most of these are scheduled in advance, it is certainly a neat idea to have a guided hike or have fun campfire programs.  You can also visit the CCC Museum on the grounds. For you non-history buffs, the CCC or Civilian Conservation Corps was a part of President Franklin Roosevelt's New Deal program to combat the Great Depression in the 1930's.  Additionally, the Pocahontas Premieres is a summer music series that boasts a wide variety of music styles.
Pocahontas Park is another really great RVA green space for the communities around the city.  Outdoor activities year round are available for all skill and age levels. Getting off the couch and seeing nature is something we try and do with the kids when we can.  As they get older their appreciation is growing as they want to explore more and more. Pocahontas Park is an awesome place for us to this!
Note there is no copyright infringement intended with photographs.